An attractive template is essential to a successful email campaign.
HubSpot offers a drag and drop email builder as of November 2019.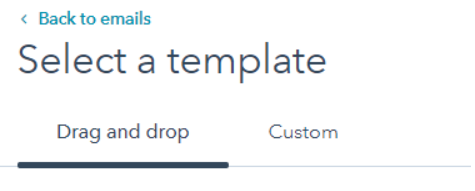 If your account does not have this feature, please contact support and they will help add this on to your account.
While this feature is sufficient for most users, there have been some concerns that have caused people to opt for the classic template builder version instead:
images coming out pixelated
keeping email structures consistent
You can create email templates from scratch or download pre-made email templates from the HubSpot Marketplace. To save time, it's advisable to choose one that has the closest look and feel to the design you have in mind, and then edit the styling in the Design Manager to fit your own branding.
As any web developer will tell you, coding emails is not fun. Due to the fact that a lot of old email clients, and also most versions of Microsoft Outlook, don't support newer CSS or HTML syntax, what you can do when it comes to styling an email is very limited if you want to ensure that the email renders as intended on all clients. It is recommended that a developer handles this if you choose to go this route, and emails must be tested vigorously using the preview feature in HubSpot before sending to ensure they appear as intended across all email clients.
If you'd like to know more about creating email templates, please contact one of our digital marketing experts.